IMPORTANT
– It is advisable to always carry an identity card.
– In the case of persons in an irregular situation, a photocopy of the passport should always be kept.
– If a person is arrested for being in an irregular situation, he or she has the right to request a lawyer or an ex officio lawyer.
SITUATION AFTER THE ALARM STATE
FOREIGNERS. During the state of alarm, appointments have been suspended and the deadlines for submitting documents have been paralyzed. As of 1 June, the deadline for submission of documentation has been resumed. Telematic procedures.
Extension of certain documents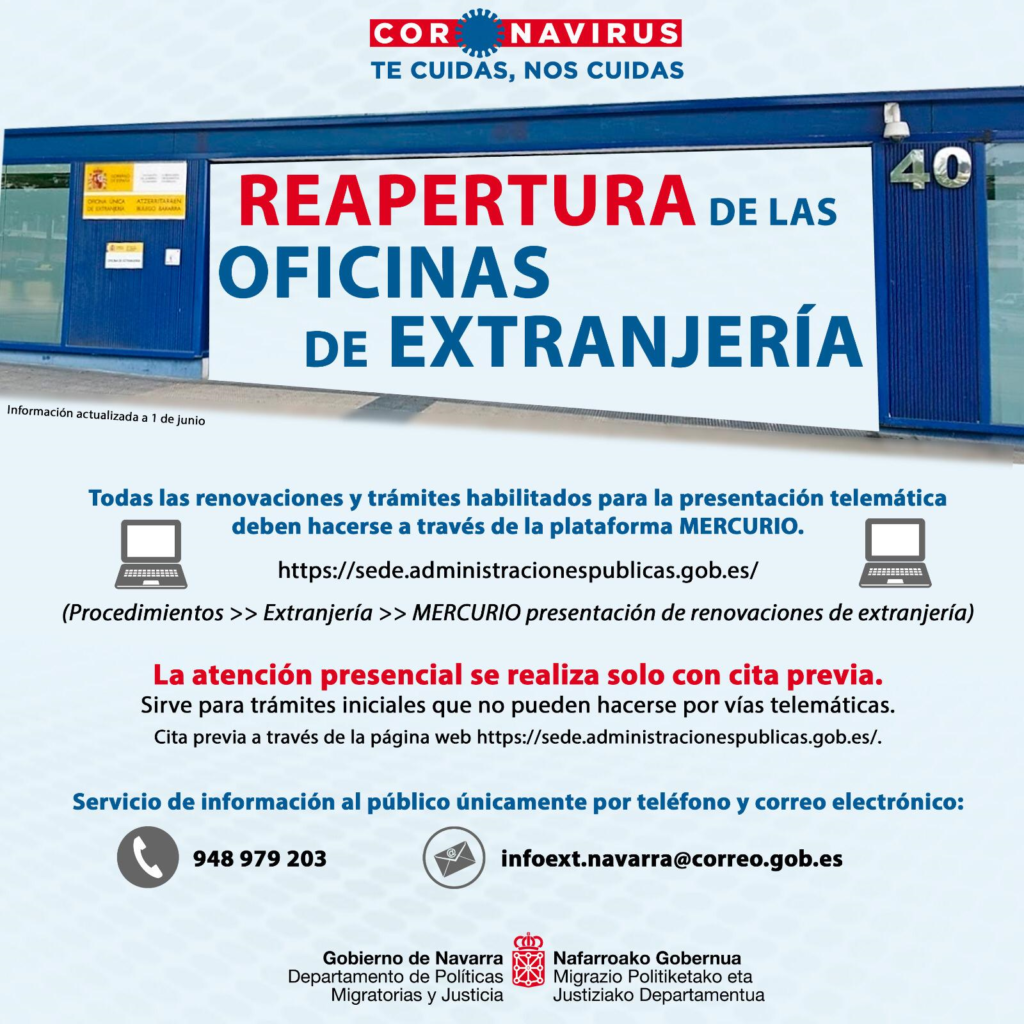 PERSONS WITH A TEMPORARY RESIDENCE PERMIT
Foreign persons authorized to stay in the Spanish State for a period of more than 90 days and less than 5 years, without prejudice to the provisions regarding study stays, student mobility, non-work internships or volunteer services. More information.
PERSONS IN AN IRREGULAR SITUATION
In this situation there is no possibility of obtaining a work permit and therefore no legal employment contract. You have to survive three years working as you can until you can prove three years of residence; when you can start processing the papers if you meet the requirements.
Some things that have changed in the Inmigration's Law for "un-accompanied minirs and people between 18 and 23 years old.
This reform pretend to put out the desertion and exclusion of "indocumented minors" and also affects young people in care up, the age of 23 years old.
More information go to : MINORS
PLACES WHERE THEY CAN ADVISE YOU
SERVICE FOR THE CARE AND ADVICE OF ALIENS AND INTERCULTURAL MEDIATION. Coordinated with institutions and other community resources: processes in which the foreign factor is decisive are facilitated.
Service of the Government of Navarre managed by the Red Cross, which has offices in Pamplona/ Iruña, Tudela, Estella-Lizarra, Tafalla, Sangüesa/ Zangoza, Altsasu/ Alsasua, Lodosa, Cintruénigo and Castejón. Appointment required. Telephone: 948 206 570.
LEGAL ADVICE FROM OTHER ENTITIES
Bidean. Telephone 679 983 392. Calle Emiliana Zubeldia, 5. Pamplona.
Caritas Diocesana. Telephone 948 225 909. Calle San Antón, 8. Pamplona. Caritas Diocesana.
Ikaskide. C / Mayor 70, 1º Pamplona / Iruña. Monday and Thursday from 6:30 p.m. to 8:00 p.m. Phone 616 874 707 ikaskide@itakaescolapios.org
It offers various services:
Legal advice: Nationality, Residence Permit and Red Card.
Social Worker: Monday morning.
Computer science course, from January 2022.
ANTI-RACIST COMPLAINTS
SOS Racismo Nafarroa. Telephone: 948 211 521. Calle Zapatería 31. Pamplona. Inquiries: sosarrazakeria.nafarroa@gmail.com. Federación Sos Racismo.
HOW TO OBTAIN RESIDENCE UNDER EXCEPTIONAL CIRCUMSTANCES
SOCIAL ROOTS. It is necessary to justify the residence of 3 years. It serves any document that accredits it: registration, entry document to the Detention Center for Foreigners (CIE), plane ticket, care in a health center, etc., provide a certificate of criminal record of the last 5 years and an offer of employment contract of at least 1 year of a minimum of 30 hours per week. In the case of agricultural work, there can be two contracts of 6 months. Domestic employees or caregivers of older or younger people may submit different contracts of one year that add up to 30 hours per week, family ties or Report of integration of the social worker favorable.
FAMILY ROOTS. This is the case of the father or mother of a minor of Spanish nationality, provided that he/she is responsible for and cohabits with him or her or is aware of his or her paternal-filial obligations or daughter or son of Spanish father or mother of origin.
LABOUR ROOTS. A person in an irregular situation who has been residing for at least 2 years has the right to obtain residence if he proves the existence of an employment relationship not less than 6 months attested by a judicial or administrative decision.
GENDER VIOLENCE. A Protection Order for Gender-based Violence or a report from the Public Prosecutor's Office, if there are any indications of this, allows for the granting of a temporary residence permit.
VICTIMS OF TRAFFICKING IN HUMAN BEINGS. Victim's collaboration in the investigation of the crime.
COOPERATION AGAINST ORGANISED NETWORKS with the administrative, police, prosecutorial or judicial authorities of anyone who is a victim, witness or victim of an act of illicit trafficking in human beings, illegal immigration, labour exploitation or trafficking in labour or exploitation in prostitution by abusing their situation of necessity.
COLLABORATION WITH PUBLIC AUTHORITIES, REASONS OF NATIONAL SECURITY OR PUBLIC ORDER IN MATTERS UNRELATED TO THE FIGHT AGAINST ORGANISED NETWORKS, OR WHEN THERE ARE REASONS OF PUBLIC INTEREST OR NATIONAL SECURITY.
PERSONS SEEKING INTERNATIONAL PROTECTION
THE GRANTING OF ASYLUM IN SPAIN IS EXCEPTIONAL
ADVICE ON ASYLUM IN NAVARRE
The Red Cross and the Spanish Commission for Refugee Aid (CEAR) offer legal information and advice on the procedure of International Protection to people without financial resources.
Red Cross. Calle Leire nº 6. Pamplona. Telephone: 948 206 570. There are Red Cross Assemblies in 17 other towns in Navarre. It is necessary to request an appointment in person.
CEAR. Calle Sandoval 2, local. Pamplona. Telephone: 848 480 818. Comisión Española de Ayuda al Refugiado
PROCEDURE FOR APPLYING FOR ASYLUM
WHO AND WHEN: The non-community adult alien and the stateless person who wishes to apply for International Protection in the Spanish State. You can file your application in person or, in case of physical or legal impossibility, by a person representing you. Minors can apply with their father/mother or legal guardian. It is advisable to request international protection as soon as possible.
WHERE AND HOW:
Appointment to apply for asylum: it is given by the Aliens Office (Avenida de Guipúzcoa nº 40, Buztintxuri. Pamplona) to whom it manifests its willingness to apply for International Protection. It is important to keep and always carry the document indicating the date of the interview, because it authorizes the applicant to stay in Spanish territory until the application can materialize; it recognizes the right of non-refoulement. In February 2020 the waiting date for the interview is approximately one year.
Application for asylum: is presented in person at the Aliens Office.
Interview: it is essential to prepare it and it is convenient to receive legal advice from a specialized entity (in Navarra CEAR and Red Cross). It is relevant to have suffered events of personal persecution, such as attacks or threats against you because you belong to a certain political, ethnic or religious group or because of your sexual orientation, armed conflicts or diseases that cannot be treated in your country, providing evidence if possible. After the interview, the person is given a White Receipt, proof of submission of the application, which is valid for 6 months.
DECISION OF ADMISSION TO THE PROCESS OF THE REQUEST: the authorities have one month, from the interview, to decide whether to admit it or not.
If your application is not admissible: Contact a lawyer or a specialized entity to advise you on appeal options.
If your application is accepted for processing: the White Receipt for submission of the application is automatically extended until the date indicated (6 months from the date of the interview). Once it has expired, a Red Card must be processed – requesting an appointment online- that certifies being an asylum seeker and grants a work permit. There is an obligation to renew it every 6 months.
RESOLUTION OF THE REQUEST FOR INTERNATIONAL PROTECTION
Negative resolution, denying international protection. The person remains in an irregular situation. ¡Contact a lawyer, lawyer or specialist entity to analyze the Resolution and guide you on appeal options!
Negative resolution denying International Protection but granting a residence/work permit for 1 year for HUMANITARIAN REASONS. The relevant card will be processed.
Positive resolution granting asylum /subsidiary protection. The corresponding card will be processed.
Support in the reception and integration processes: the Government of Navarre performs functions of coordination and communication with the other departments, local authorities, citizens' initiatives, Refugees, etc. In collaboration with social organizations, it developed a specific PROTOCOLO.
RECEPTION PROGRAMME FOR ASYLUM SEEKERS. It is a State programme funded by the Ministry of Labour, Migration and Social Security (MITRAMISS) to support persons who are in the process or have applied for asylum and are in a vulnerable situation. The Ministry coordinates the allocation of places for asylum-seekers throughout the national territory.
In Navarre it is managed by the Red Cross and CEAR. The application for admission can only be made through the Red Cross, after a social assessment.
FORM OF OBTAINING SPANISH NATIONALITY
NATIONALITY BY RESIDENCE
It is necessary to prove having resided in the Spanish State legally, continuously and immediately prior to the application for 10 years. Five are sufficient for those who have obtained refugee status and two for nationals of origin from Ibero-American countries, Andorra, Equatorial Guinea, the Philippines, Portugal or persons of Sephardic origin.
In certain circumstances, proof of residence for 1 year will suffice, as in the case of persons born in Spain, those married – and not separated- to Spanish or Spanish or widow or widower of Spanish or Spanish.
It is necessary to pass two exams: one on constitutional and socio-cultural knowledge of Spain, CCSSE test, and another on knowledge of the language, DELE Spanish diploma.
The content of this page is purely informational. We thank you if you communicate any error or lack of information to us.