Access to education is a universal right for all girls and boys residing in Navarra. Schooling is compulsory and free between the ages of 6 and 16, regardless of the administrative status of those legally responsible. At 16 they can choose between Baccalaureate or Middle Grade Professional Training.
Foreign nationals over 18 years of age who are in a regular situation can complete their basic training free of charge in adult training centers, as well as access to undergraduate or university training cycles.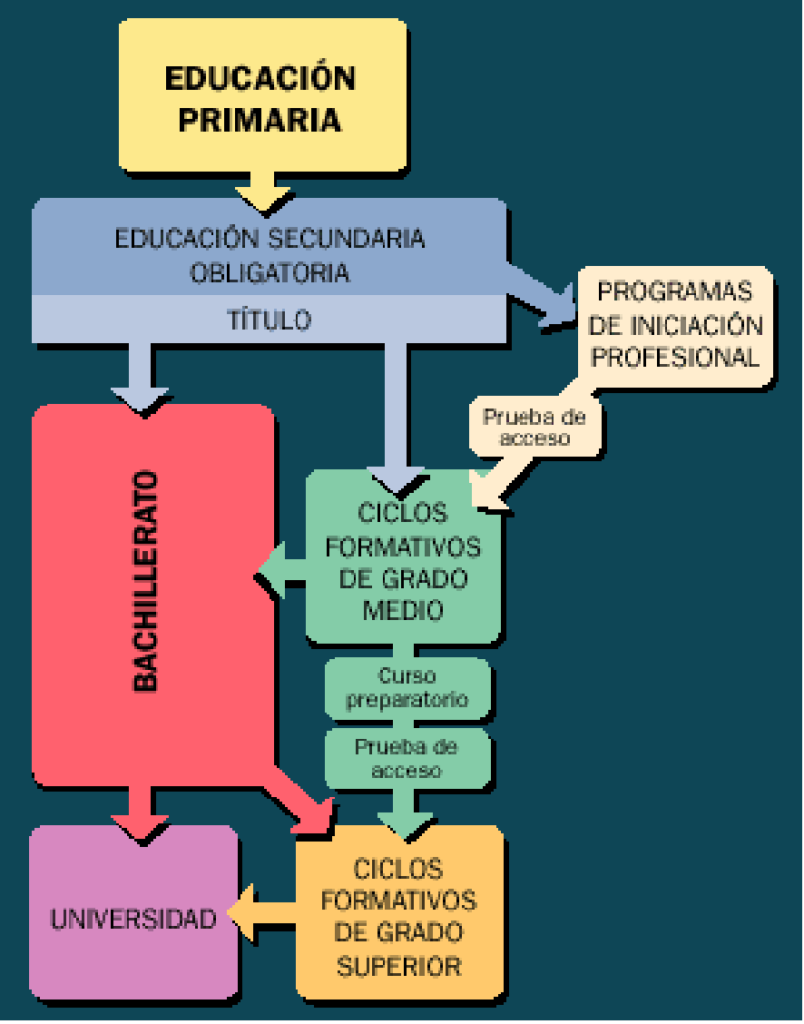 EDUCATION FOR MINORS
Stages in which the educational system is organized:
0 – 6 YEARS: Early Childhood Education.
6 – 12 YEARS: Primary Education (compulsory).
12 – 16 YEARS: Compulsory Secondary Education (ESO).
16 – 18 YEARS: Baccalaureate / Middle Grade Vocational Training.
Requirement: Prove that the boy or girl is registered in the municipality where they live.
Procedures necessary for the access of migrant people to the Educational System: Find out about the different linguistic models existing in Navarra (see below) and go to the corresponding school to request enrollment. To find out which center corresponds to them, you can call the Navarra Government Department of Education. Santo Domingo Street, s / n. Pamplona. Telephone 848 426 500.
Informative guide for immigrant students describes the educational system. Edited in several languages ​​(Spanish, French, English, Russian, Romanian, Bulgarian, Arabic, Basque). It is in the Department of Education and on the Education website for use in the centers, Local School Commissions or whoever needs to make some kind of consultation.
LINGUISTIC MODELS. In Navarra, there are two official languages: Basque, spoken by a part of the Navarrese population, and Spanish, spoken by the entire Navarrese population. Basque is a native language in the process of recovery. Their learning contributes to maintaining cultural wealth.
Model D: Teaching in Basque. It guarantees the learning of Basque, Spanish and a foreign language.
Model G: Teaching in Spanish. Most schools have the MYP program, in which several subjects are taught in English. It guarantees the learning of Spanish and English.
Model A: Teaching in Spanish with the subject of Basque. It guarantees the learning of Spanish and basic knowledge of Basque is acquired.
REGISTRATION DEADLINE. The ordinary deadline for submitting applications is February. The lists of people admitted are made public in March and registration takes place between the last days of June and the first of July. There is another extraordinary deadline for submitting applications at the beginning of September. It is very important to always register within the ordinary period.
Outside of these deadlines, students who join late will be admitted to schools where there are vacancies. The Local Schooling Commissions advise newly incorporated immigrant students about their schooling in an educational center, equally attending to the interests of parents and the admission possibilities of the centers.
INFORMATION GUIDE FOR LATE ENTRY IMMIGRANT STUDENTS
SCHOLARSHIPS AND GRANTS FROM THE DEPARTMENT OF EDUCATION
FIRST CYCLE OF CHILDREN'S EDUCATION (0-3 years)
ORGANIZATIONS THAT OFFER SCHOOL SUPPORT AND EDUCATIONAL ACTIVITIES FOR MINORS
Lantxotegi . Intervention in the promotion – prevention of personal youth and sectors with difficulties of socio-labor integration, trying to give a socio-educational and integration response. They teach different subsidized educational programs aimed at young people with problems keeping up with the school rhythm who have not finished Compulsory Secondary Education: Adapted Curricular Program for young people up to 16 years old, Basic Professional Training in Agro-gardening and floral compositions for young people between 15 and 17 years old , Professional Building Maintenance Workshop for young people from 16 to 21 years old.
SEI Association – Intercultural Socio-educational Service
Cáritas Diocesana de Pamplona and Tudela. COMMUNITY ANIMATION
ITAKA Foundation. Itaka Escolapios . Contact: sedepamplona@itakaescolapios.org . Telephone 948 203 891.
Our Father Parish . Contact: Email: parroquiapadre1@yahoo.es
EDUCATION FOR ADULTS
Foreign persons over 18 years of age in an irregular situation do not have the right to access regulated studies.
Foreigners over 18 years of age who are in a regular situation can access higher education (university and higher-level training cycles), obtain the corresponding degrees and the public scholarship system under the same conditions as Navarrese people .
BASIC TRAINING. They can take it free of charge at Adult Education Centers of the Department of Education and through other training offers: language schools, training courses from the Navarre Employment Service-Nafar Lansare …
HIGHER TRAINING. CENTERS WHERE IT IS TAUGHT
Public University of Navarra (UPNA).
Refugee support project (UPNA).
Vocational training training cycles
National University of Distance Education .
APPROVAL OF FOREIGN ACADEMIC TITLES
For post-compulsory studies, the procedures have an economic cost. Ministry of Education. Calle Paulino Caballero, 19, ground floor. Pamplona. Contact: ainspeccion.navarra@correo.gob.es . Telephone 948 979 360 and 948 979 362.
LEARNING BASQUE
LEARNING OF SPANISH LANGUAGE FOR ADULTS.
Basic formation. Education deparment
SUPPORTING ORGANIZATIONS
Spanish literacy. Volunteering coordinated by the Information Point for Migrated Persons / Pertsona Migratuendako Informazio Gunea. Contact: info@pim-mig.info.
Literacy and training of adults. Ikaskide. Itaka Escolapios . Contact: sedepamplona@itakaescolapios.org . Telephone 948 203 891.
Literacy and training for migrant women. Gaztelan Foundation. Contact: impulse@gaztelan.org . Telephone 948 136 020.
Spanish. Reinforcement. Ilundain Foundation. Caminan2 program. Phones 679 881 824 and 948 199 37
Educate and disseminate within the framework of interculturality. Alter Natives. Association of Intercultural Initiatives .
Iturrama Sociocultural Center. Calle San Juan Bosco, 15. Pamplona.
PREPARATION OF EXAMS TO OBTAIN NATIONALITY (at Instituto Cervantes)
Diploma of Spanish DELE level A2 or higher and CCSE test . 
Spanish literacy. Volunteering coordinated by the Information Point for Migrated Persons / Pertsona Migratuendako Informazio Gunea. Contact: info@pim-mig.info.